CONSULTING SERVICES

TOP 4th GL's Consulting Group delivers solutions that consistently produce great results because it combines thought leadership on hot issues with the methods and full service capabilities of a mature consulting and I.T. services firm.
To gain a competitive edge in today's market, organizations need to integrate their internal information systems and business processes with those of customers, business partners and suppliers. They need to build truly integrated value chains with these players—creating extended enterprises, enabled by shared electronic applications. The end result is to extend enterprise functionality to entire electronic trading communities. TOP 4th GL knows how to guide clients through the processes of I.T.-enabled business transformation required to build the extended enterprises of the 21st century.
Specialties: • E-Commerce
• Internet and Intranet
• Data Base Management
• Mainframe legacy applications
• ERP - SAP, PeopleSoft, Oracle
• Client Server
Our services span all of an organization's core business and I.T. management processes. Our unique approach lies at the heart of many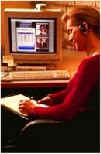 TOP 4th GL solutions, ensuring investments and projects are evaluated and deployed with a solid link to business benefits. We build extended enterprise solutions through a strategic suite of consulting, delivery and application portfolio management services.

Providing the flexibility you need to overcome the challenge of doing business in the face of rapidly changing technology and constantly shifting staffing requirements is what we do best.

I.T. Specialists

TOP 4th GL information systems consultants are highly skilled and possess the latest skills. Through a variety of training and practical experience we can assure there quality and dedication to accomplishing the tasks at hand in an efficient and timely manner. On staff expertise ranges from Senior ERP specialists and web developers to project managers and legacy apps guru's. TOP 4th GL's highly skilled talent pool consists of individuals experienced with the tried a true technologies as well as all the latest technologies such as: .NET, C++, VC++, SQL, Oracle, DB2, HTML, Java, Perl, ActiveX, COBOL, PeopleSoft, SAP, Web Focus, among others. Our consultants consist of bilingual senior and intermediate level analysts, programmers, technicians and project managers. From emerging technologies such as the web and e-commerce to legacy systems, we can provide: individual consultants, consulting teams, or entire project outsourcing. We offer value added services including:
Productivity reporting

Project management

Training rates
With volume accounts, an on-site account manager can make working with TOP 4th GL simpler than ever.

TOP 4th GL's network of offices and affiliates makes staffing projects locally or nationally as easy as calling your account manager. You'll enjoy the responsiveness of local contract management and the convenience of a single vendor.

Whether your needs are short-term, long-term, TOP 4th GL can fulfill your information systems needs through very competitive rates and extremely competent personnel.

Getting the Right Fit

Every TOP 4th GL consultant is screened for:
Technical skills and expertise

Interpersonal communication skills

Team orientation

Professionalism, reliability, and commitment

Ability to learn new environments quickly.
We interview all candidates and conduct at least three reference checks to ensure a good match.
Our Commitment to the Industry
We understand that a specialized industry requires specialized service. Our consultants are represented by experienced account managers who are required to know their clients' business and technical environments, as well as their staffing requirements. Through extensive research of your industry, business, and workplace, our account managers are able to anticipate and meet most of your specific needs.
TOP 4th GL is an active participant in local and national information technology and staffing industry groups. These organizations allow us to monitor legislation that could potentially benefit or have an adverse impact on our clients. They also provide a forum to discuss issues of common interest and allow for communication of important industry trends and developments.